Amazon's New Echo Buds sticks Alexa inside your ears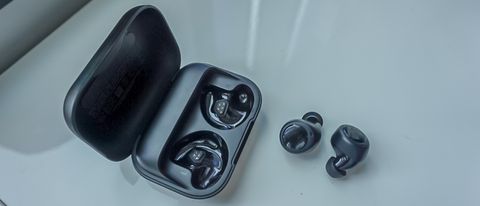 Going from niche to mainstream in just a few short years, true-wireless earbuds have become a must-have for the on-the-go music fan. But what if you want access to smart functionality from your wire-free buds, too?
Amazon is taking on Apple's AirPods and Samsung Galaxy Buds with the Echo Buds. These new buds have integrated Alexa support and include noise reduction technology from Bose. 
Using the usual wake word, Alexa, will activate the voice assistant, or by tapping and holding one of the buds, a separate voice assistant on your phone (such as Siri or Google Assistant) can also connect. You can toggle between noise reduction and the outside world by double-tapping the side of the buds. 
It's a comfortable, tangle-free experience usually, and the Echo Buds meet that criteria admirably. Coming in black with an obloid case, you'll get five hours of music streaming from the earbuds themselves, with 15 back-up hours in the case for a total battery life of 20 hours per charge.
Immersive sound – Premium speaker drivers deliver crisp, dynamic audio. Bose Active Noise Reduction Technology and sealed in-ear design limits background noise.

Hands-free with Alexa – Echo Buds work with the Alexa app to stream music, play Audible audiobooks, make calls, or get directions—just ask.
Access other assistants – Supports access to Siri or Google Assistant from a supported device—just press and hold your earbud.

Exercise ready – Sweat-resistant with a secure fit that's made to move with you.
Alexa is always getting smarter and adding new skills – Request a rideshare, get a guided workout, or order dinner, all hands-free.

Designed to protect your privacy - Built with multiple layers of privacy protections and controls, including the ability to mute the mics with the Alexa app.
The Amazon Echo Buds are available for pre-order, priced at $129.99 / £119.99. Amazon may not be the first manufacturer to offer its Alexa assistant in earbuds, but it's looking likely that it will have made the best yet – at least if Alexa access is your primary concern.
You can get Alexa in other earbuds, but given the ease with which the assistant can be accessed here, and the Bose active noise cancellation onboard, you'll be hard pressed to find a more feature-rich true wireless pair at this price point.
Overall, it's a very intelligent pair of earbuds, and set of features, at a price point that makes you wonder how Amazon can afford to sell them at all.